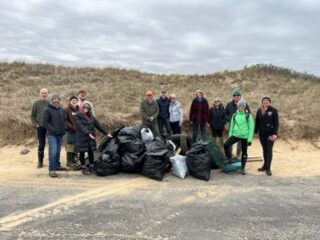 The ECF Marsh Cleanup project this year was held on Earth Day — April  22, 2023.
This is the fifth year that we have initiated this rubbish removal event and we thank the many folks who volunteered their time to assemble this pile of junk and send it on its way to the transfer station.
Thanks too to the Eastham Natural Resources and Recreation Commisison departments and DPW for their assistance with the disposal of this pile.
The total amount of plastics, aquaculture & other trash removed this year was 600 pounds (30% more than last year !) This brings the 5-year total to nearly three tons.
WOW!  .
Why does this matter? To quote the EPA regarding the health & environmental concerns of improperly discarding tires, "disease carrying pests such as rodents may live in tire piles. Mosquitoes can also breed in the stagnant water that collects inside tires including those that carry encephalitis & dengue fever". Tires also break down into hazardous compounds including methane gas, heavy metals, & oil that leach into the soil. Most of the tires that we removed contained pools of stagnant water conducive to the breeding of bad mosquitoes.
To quote our Board member Bill Allen who is the driving force in directing and organizing this effort "That's a lot of bad stuff that we have removed from our Great Marsh ecosystem"
Many thanks to Bill and all our volunteers on a job well done !